tagged by: recruiting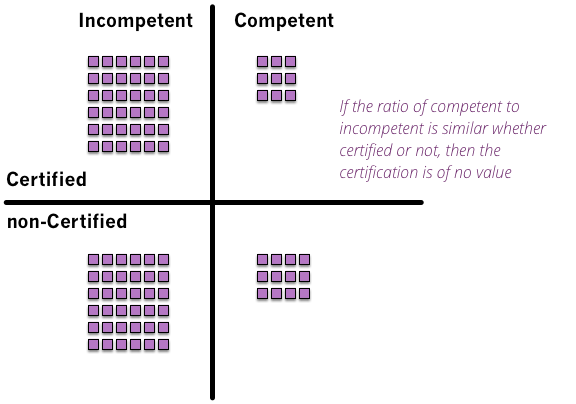 Most of my friends and colleagues are very negative about certification schemes in software development, a disdain that I share. This doesn't mean that I think that certifications in software are bad by definition, just that almost every one we see fails a basic test.
One of the commonly accepted beliefs in the software world is that talented programmers are more productive. Since we CannotMeasureProductivity this is a belief that cannot be proven, but it seems reasonable. After all just about every human endeavor shows some people better than others, often markedly so. It's also commonly observed by programmers themselves, although it always seems to be remarked on by those who consider themselves to be in the better talented category.
Imagine a hiring situation. There's two candidates both with a few years of experience. In the blue corner we have someone with good broad design skills in the style of design that you favor (in my case that would be things like DRY, judicious use of patterns, TDD, communicative code etc, but the actual list isn't important - just that it's what you favor). However she knows nothing of the particular platform technology that you're using. In the red corner we have someone who has little knowledge (or interest) in those issues, but knows your platform really well - edge cases in the language, what libraries are available, fingers move naturally over the tools. Assume all else about them is equal (which it never is except for thought experiments like this) and that your team doesn't have any gaping holes that this candidate might fill. Which one would you prefer?
---