tagged by: front-end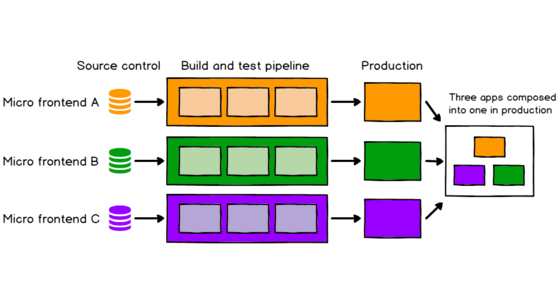 Good frontend development is hard. Scaling frontend development so that many teams can work simultaneously on a large and complex product is even harder. In this article we'll describe a recent trend of breaking up frontend monoliths into many smaller, more manageable pieces, and how this architecture can increase the effectiveness and efficiency of teams working on frontend code. As well as talking about the various benefits and costs, we'll cover some of the implementation options that are available, and we'll dive deep into a full example application that demonstrates the technique.
Narrative overview of patterns in user interfaces. Discusses how and why to separate domain logic from the presentation and how layers of data are separated and synchronized.
One of the most useful design principles that I've found and followed is that of keeping a good separation between the presentation aspects of a program (the user interface) and the rest of the functionality. Over the years where I've seen this done, I've seen plenty of benefits:
A historical overview of how GUI archiectures have evolved, with a particular attention to how Model-View-Controller has been seen by different groups over the years. Ties into my presentation patterns from a historical perspective.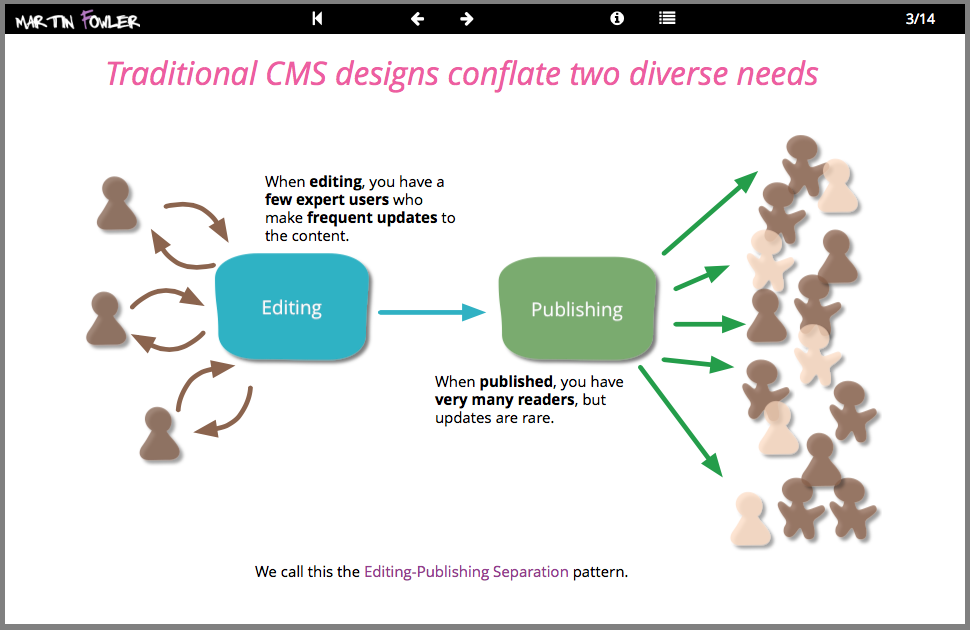 We build many websites with rich content, often using popular Content Management Systems (CMS). A recent project involved a marketing website for a global manufacturer which demanded complex interactive content with high availability and traffic needs. Our response was to apply the editing-publishing separation pattern and build two distinct stacks of software for content creation and delivery. In this deck you can see an overview of this architecture and our response to the issues of integration between the stacks, providing a secure preview of the live site, and handling the evolution and scaling of the system.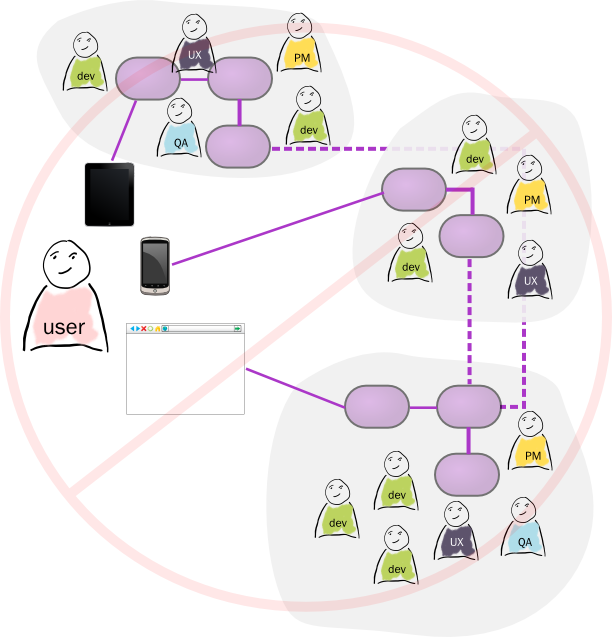 Mobile applications have been a hot item in software development over the past couple of years. Like many software delivery companies, ThoughtWorks get a lot of requests from clients asking us to build a mobile application for them. However most of the time a company asks us (or anyone) to build a mobile application they are starting off on the wrong foot. I'd argue that for most situations, even though you want users to interact with a mobile device, you should never think of building a mobile application. Instead you need to think about building a single application that presents across multiple devices: mobile, desktop, tablet - or whatever device your users might use.