User Story 1.1
As a speaker, I want to link the external presentation in order to integrate talks.
Acceptance Criteria 1
Scenario 1: Link presentation across presentation sharing platform
Given that there is a valid link on the SlideShare platform
When I associate the external presentation link
Then It will show a preview of the presentation on the screen
Acceptance Criteria 2
Scenario 2: Associate presentation when publishing talks
Given that the presentation link is valid
When I publish the talk
Then it will show the associated presentation in the published talk details
Tasks:
Consume the presentation endpoint.
Create a UI to show a PDF file of the presentation.
Create logic in the backend to link presentation with published talk.
Change parameter to public or private link.
Create test data to verify that the link is valid.
Change DB to include the presentation link.
Interface Sketch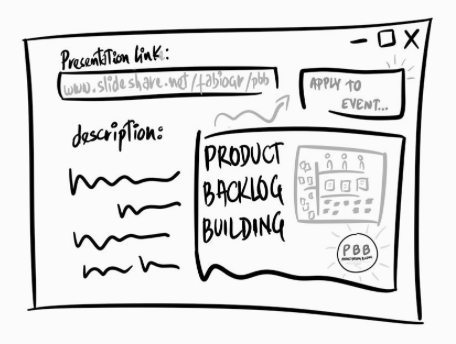 Exploratory Enabler:
Study endpoint API integration with online presentation sharing platforms (SlideShare and Speaker Deck).
Technical Enabler:
Consume the oEmbed endpoint as a link tag in the header so it can be automatically detected when embedding the presentation.