Building Boba AI
Some lessons and patterns learnt in building an LLM-powered generative application
We are building an experimental AI co-pilot for product strategy and generative ideation called "Boba". Along the way, we've learned some useful lessons on how to build these kinds of applications, which we've formulated in terms of patterns. These patterns allow an application to help the user interact more effectively with a Large-Language Model (LLM), orchestrating prompts to gain better results, helping the user navigate a path of an intricate conversational flow, and integrating knowledge that the LLM doesn't have available.
29 June 2023
---
---
Boba is an experimental AI co-pilot for product strategy & generative ideation, designed to augment the creative ideation process. It's an LLM-powered application that we are building to learn about:
How to design and build generative experiences beyond chat, powered by LLMs
How to use AI to augment our product and strategy processes and craft
An AI co-pilot refers to an artificial intelligence-powered assistant designed to help users with various tasks, often providing guidance, support, and automation in different contexts. Examples of its application include navigation systems, digital assistants, and software development environments. We like to think of a co-pilot as an effective partner that a user can collaborate with to perform a specific domain of tasks.
Boba as an AI co-pilot is designed to augment the early stages of strategy ideation and concept generation, which rely heavily on rapid cycles of divergent thinking (also known as generative ideation). We typically implement generative ideation by closely collaborating with our peers, customers and subject matter experts, so that we can formulate and test innovative ideas that address our customers' jobs, pains and gains. This begs the question, what if AI could also participate in the same process? What if we could generate and evaluate more and better ideas, faster in partnership with AI? Boba starts to enable this by using OpenAI's LLM to generate ideas and answer questions that can help scale and accelerate the creative thinking process. For the first prototype of Boba, we decided to focus on rudimentary versions of the following capabilities:
1. Research signals and trends: Search the web for articles and news to help you answer qualitative research questions, like:
How is the hotel industry using generative AI today?
What are the key challenges facing retailers in 2023 and beyond?
How are pharma companies using AI to accelerate drug discovery?
What were the key takeaways from Nike's latest earnings call?
How do people on Reddit feel about Lululemon's products?"
2. Creative Matrix: The creative matrix is a concepting method for sparking new ideas at the intersections of distinct categories or dimensions. This involves stating a strategic prompt, often as a "How might we" question, and then answering that question for each combination/permutation of ideas at the intersection of each dimension. For example:
Strategic prompt: "How might we use generative AI to transform wealth management?"
Dimension 1 - Stages of the value chain: Client acquisition, financial planning, portfolio construction, investment execution, performance monitoring, risk management, reporting and communication
Dimension 2 - Different personas: For employees, for customers, for partners
3. Scenario building: Scenario building is a process of generating future-oriented stories by researching signals of change in business, culture, and technology. Scenarios are used to socialize learnings in a contextualized narrative, inspire divergent product thinking, conduct resilience/desirability testing, and/or inform strategic planning. For example, you can prompt Boba with the following and get a set of future scenarios based on different time horizons and levels of optimism and realism:
"Hotel industry uses generative AI to transform the guest experience"
"Pfizer accelerates drug discovery with the use of generative AI"
"Show me the future of payments 10 years from now"
4. Strategy ideation: Using the Playing to Win strategy framework, brainstorm "where to play" and "how to win" choices based on a strategic prompt and possible future scenarios. For example you can prompt it with:
How might Nike use generative AI to transform its business model?
How might the Globe & Mail increase readership and engagement?
5. Concept generation: Based on a strategic prompt, such as a "how might we" question, generate multiple product or feature concepts, which include value proposition pitches and hypotheses to test.
How might we make travel more convenient for senior citizens?
How might we make shopping more social?
6. Storyboarding: Generate visual storyboards based on a simple prompt or detailed narrative based on current or future state scenarios. The key features are:
Generate illustrated scenes to describe your customer journeys
Customize the styles and illustrations
Generate storyboards directly from generated scenarios
Using Boba
Boba is a web application that mediates an interaction between a human user and a Large-Language Model, currently GPT 3.5. A simple web front-end to an LLM just offers the ability for the user to converse with the LLM. This is helpful, but means the user needs to learn how to effectively interact the LLM. Even in the short time that LLMs have seized the public interest, we've learned that there is considerable skill to constructing the prompts to the LLM to get a useful answer, resulting in the notion of a "Prompt Engineer". A co-pilot application like Boba adds a range of UI elements that structure the conversation. This allows a user to make naive prompts which the application can manipulate, enriching simple requests with elements that will yield a better response from the LLM.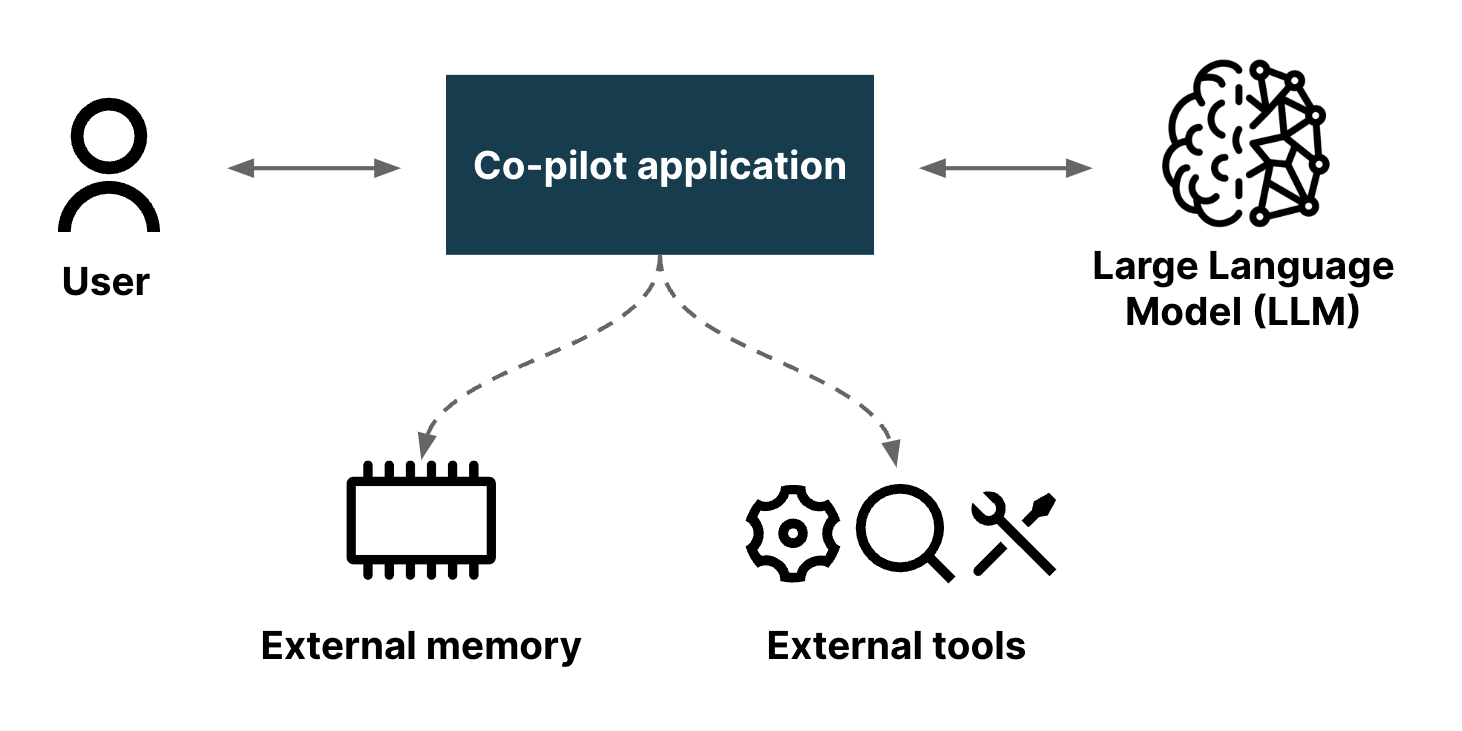 Boba can help with a number of product strategy tasks. We won't describe them all here, just enough to give a sense of what Boba does and to provide context for the patterns later in the article.
When a user navigates to the Boba application, they see an initial screen similar to this

The left panel lists the various product strategy tasks that Boba supports. Clicking on one of these changes the main panel to the UI for that task. For the rest of the screenshots, we'll ignore that task panel on the left.
The above screenshot looks at the scenario design task. This invites the user to enter a prompt, such as "Show me the future of retail".

The UI offers a number of drop-downs in addition to the prompt, allowing the user to suggest time-horizons and the nature of the prediction. Boba will then ask the LLM to generate scenarios, using Templated Prompt to enrich the user's prompt with additional elements both from general knowledge of the scenario building task and from the user's selections in the UI.
Boba receives a Structured Response from the LLM and displays the result as set of UI elements for each scenario.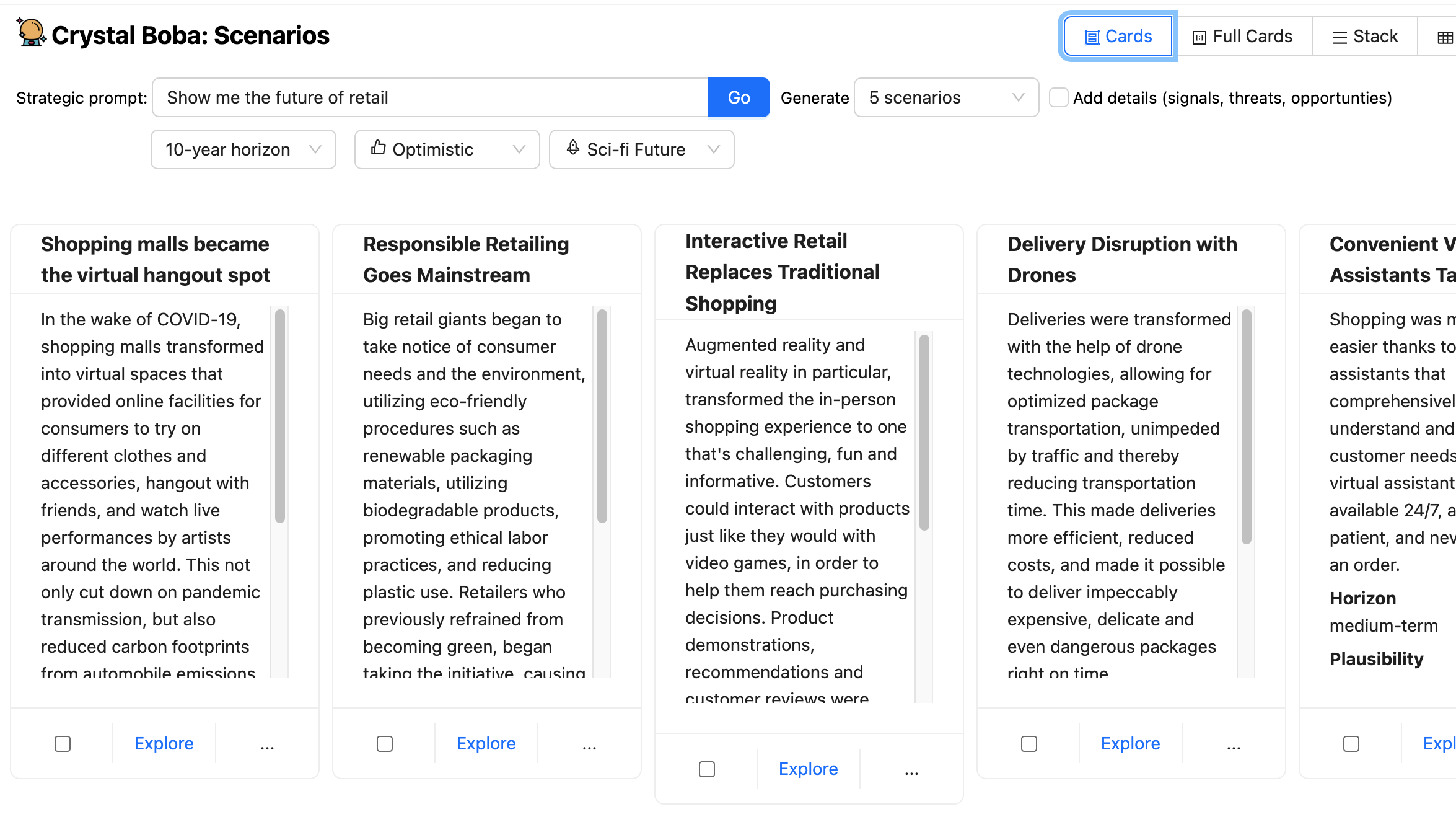 The user can then take one of these scenarios and hit the explore button, bringing up a new panel with a further prompt to have a Contextual Conversation with Boba.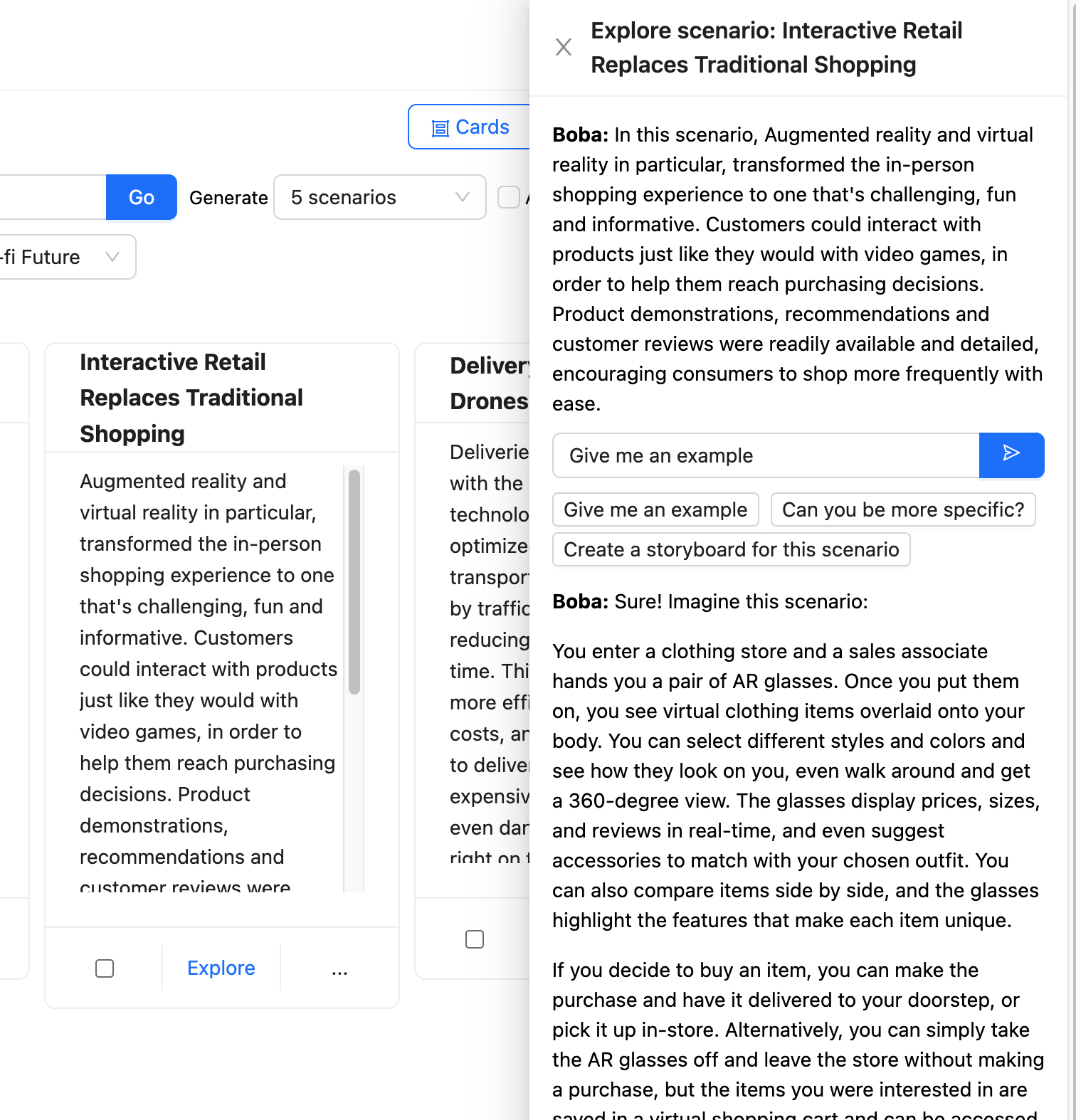 Boba takes this prompt and enriches it to focus on the context of the selected scenario before sending it to the LLM.
Boba uses Select and Carry Context to hold onto the various parts of the user's interaction with the LLM, allowing the user to explore in multiple directions without having to worry about supplying the right context for each interaction.
One of the difficulties with using an LLM is that it's trained only on data up to some point in the past, making them ineffective for working with up-to-date information. Boba has a feature called research signals that uses Embedded External Knowledge to combine the LLM with regular search facilities. It takes the prompted research query, such as "How is the hotel industry using generative AI today?", sends an enriched version of that query to a search engine, retrieves the suggested articles, sends each article to the LLM to summarize.
This is an example of how a co-pilot application can handle interactions that involve activities that an LLM alone isn't suitable for. Not just does this provide up-to-date information, we can also ensure we provide source links to the user, and those links won't be hallucinations (as long as the search engine isn't partaking of the wrong mushrooms).
Some patterns for building generative co-pilot applications
In building Boba, we learnt a lot about different patterns and approaches to mediating a conversation between a user and an LLM, specifically Open AI's GPT3.5/4. This list of patterns is not exhaustive and is limited to the lessons we've learnt so far while building Boba.
Future plans and patterns
So far, we've only scratched the surface with the prototype of Boba and what a generative co-pilot for product strategy and generative ideation could entail. There is yet a lot to learn and share about the art of building LLM-powered generative co-pilot applications, and we hope to do so in the months to come. It's an exciting time to work on this new class of applications and experiences, and we believe many of the principles, patterns and practices are yet to be discovered!
---
Significant Revisions

29 June 2023: First published